Profile
Author:Dania Langille
Welcome to FC2!
Are Bunions Hereditary?
Overview

A bunion (hallux abducto valgus) is a bony lump or enlargement that forms in the joint (metatarsal phalangeal joint) at the base of the big toe. The big toe points toward the other toes (lateral deviation) as the bunion progresses. The joint and surrounding tissue becomes inflamed and painful. Occasionally bunions can also form at the joint at the base of the smallest (fifth) toe. They are called a tailor's bunion or bunionette. Bunions can be accompanied by bursitis (inflammation of a small fluid-filled sac adjacent to the joint). With an advanced bunion the big toe may be so deformed that it has to lie over or under the second toe. In this situation it hurts to walk or wear any kind of shoe. About one in three people in most Western countries will get a bunion. They are about ten times more common in women than in men. Older people are more often affected than younger people, although bunions do occur in children with misaligned feet. Bunions should not be confused with gout or arthritis, which can also cause inflammation, deformity and pain around the toes and feet.

Causes
Bunions most commonly affect women. Some studies report that bunion symptoms occur nearly 10 times more frequently in women. It has been suggested that tight-fitting shoes, especially high-heel and narrow-toed shoes, might increase the risk for bunion formation. Tight footwear certainly is a factor in precipitating the pain and swelling of bunions. Complaints of bunions are reported to be more prevalent in people who wear shoes than in barefoot people. Other risk factors for the development of bunions include abnormal formation of the bones of the foot at birth (congenital) and arthritic diseases such as rheumatoid arthritis. In some cases, repetitive stresses to the foot can lead to bunion formation. Bunions are common in ballet dancers.
SymptomsSymptoms of a bunion include irritated skin, sensitivity to touch, and pain when walking or running. Since the bunion may grow so prominent as to affect the shape of the foot, shoes may no longer fit properly, and blisters may form at the site of friction and pressure. Bunions may grow so large that an individual must wear shoes that are a larger size than they would otherwise wear. If the bunion becomes a severe case, walking may become difficult.

Diagnosis
People with bunions may be concerned about the changing appearance of their feet, but it is usually the pain caused by the condition that leads them to consult their doctor. The doctor will evaluate any symptoms experienced and examine the affected foot for joint enlargement, tissue swelling and/or tenderness. They will also assess any risk factors for the condition and will ask about family history. An x-ray of the foot is usually recommended so that the alignment of big toe joint can be assessed. This would also allow any other conditions that may be affecting the joint, such as arthritis, to be seen.

Non Surgical Treatment
Patients with a painful bunion may benefit from four to six physical therapy treatments. Your therapist can offer ideas of shoes that have a wide toe box (mentioned earlier). The added space in this part of the shoe keeps the metatarsals from getting squeezed inside the shoe. A special pad can also be placed over the bunion. Foot orthotics may be issued to support the arch and hold the big toe in better alignment. These changes to your footwear may allow you to resume normal walking immediately, but you should probably cut back on more vigorous activities for several weeks to allow the inflammation and pain to subside. Treatments directed to the painful area help control pain and swelling. Examples include ultrasound, moist heat, and soft-tissue massage. Therapy sessions sometimes include iontophoresis, which uses a mild electrical current to push anti-inflammatory medicine to the sore area. This treatment is especially helpful for patients who can't tolerate injections.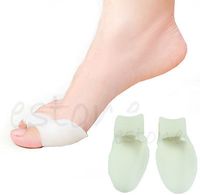 Surgical Treatment
There is no "standard" bunion, but rather a complex range of joint, bone, muscle, tendon and ligament abnormalities that can cause variation in each bunion's make-up. As a result, there are a broad variety of surgical techniques for dealing with bunions. Most surgical procedures start with a simple bunionectomy, which involves excision of swollen tissues and removal of the enlarged boney structure. While this may remove the troublesome tissues, however, it may not correct other issues associated with the bunion. The surgeon may also need to tighten or loosen the muscles, tendons and ligaments around the MTP joint. Realign the bone by cutting it and shifting its position (a technique called osteotomy), realigning muscles, tendons and ligaments accordingly. Use screws, wires or plates to hold the joint surfaces together until they heal. Reconstruct a badly damaged joint or replace it with an artificial implant.